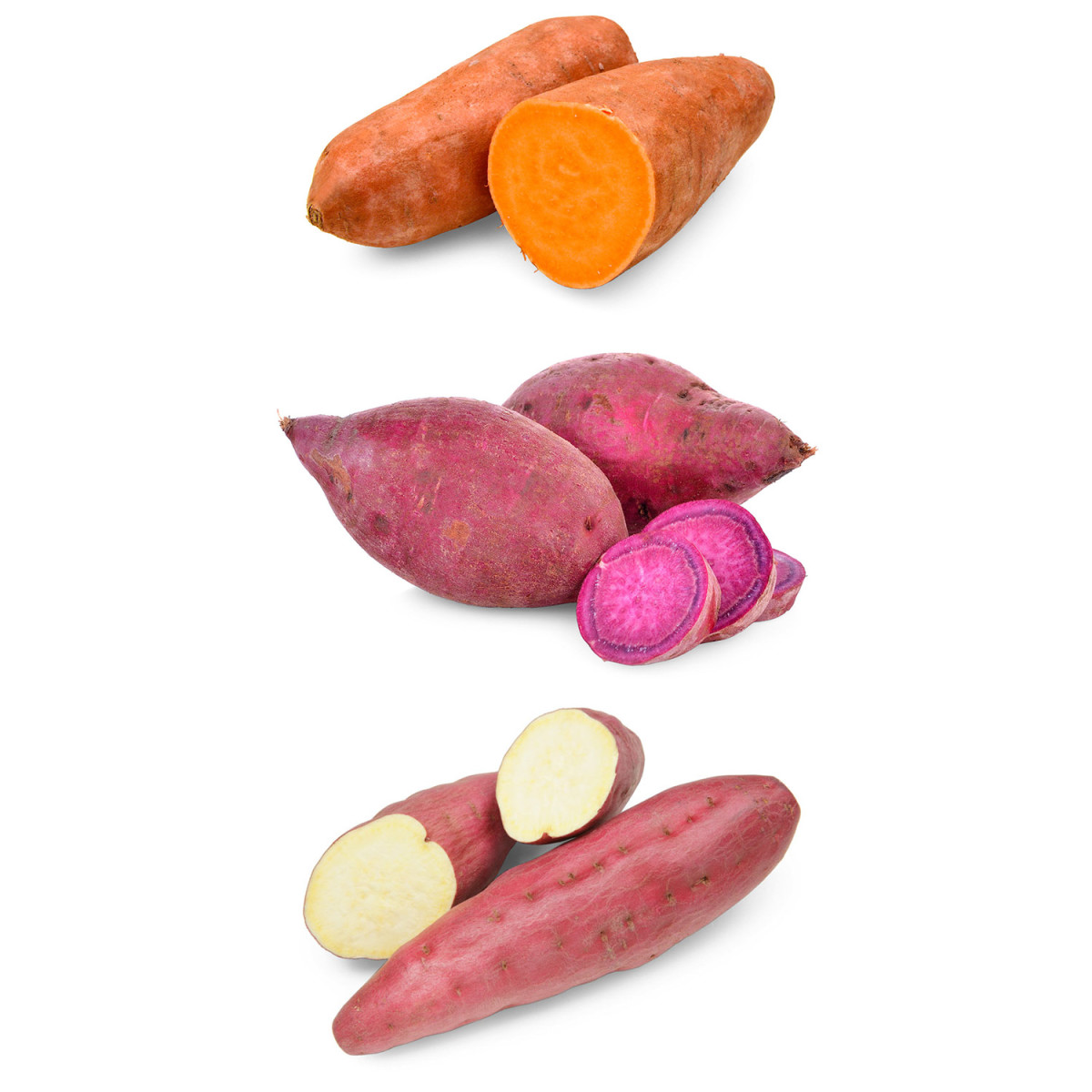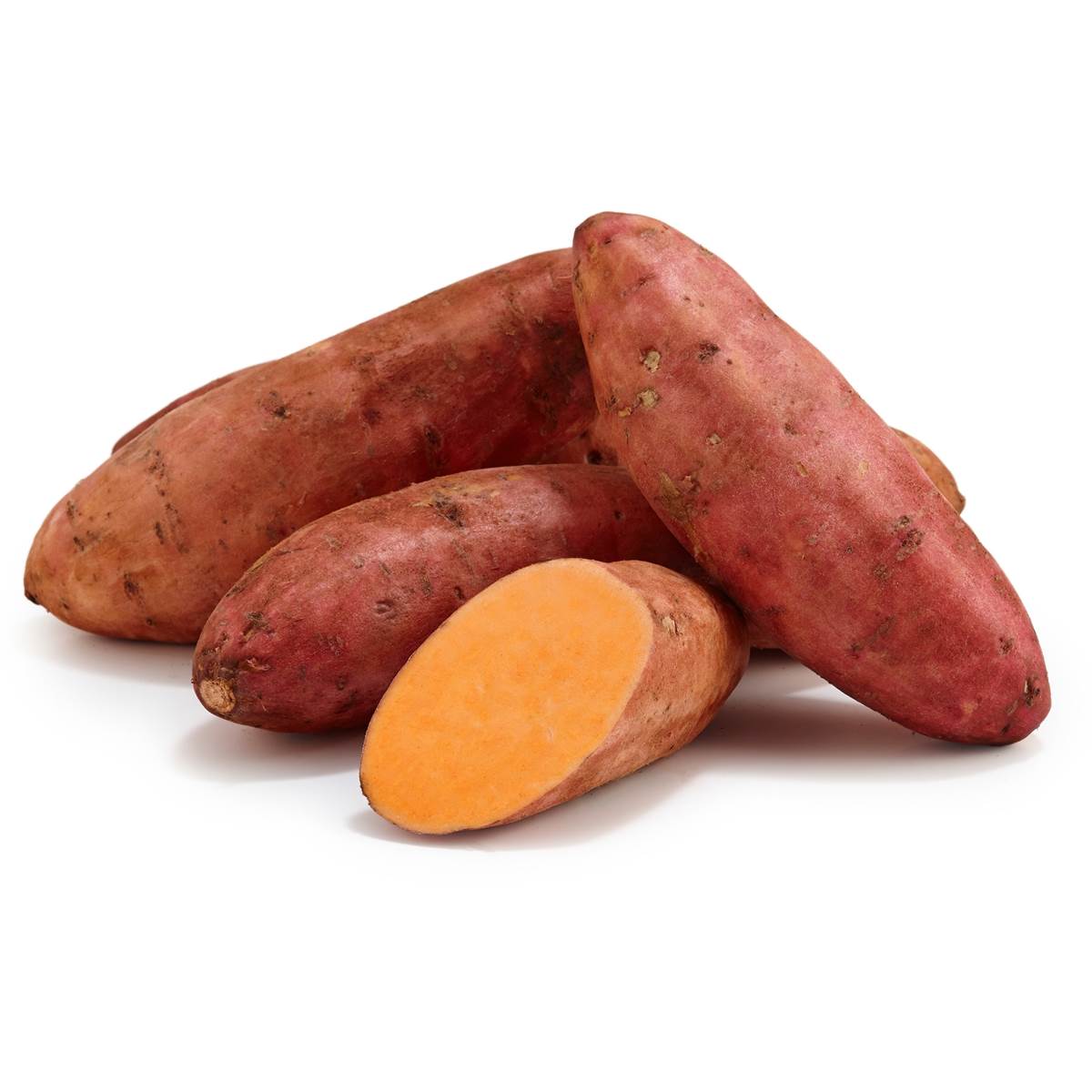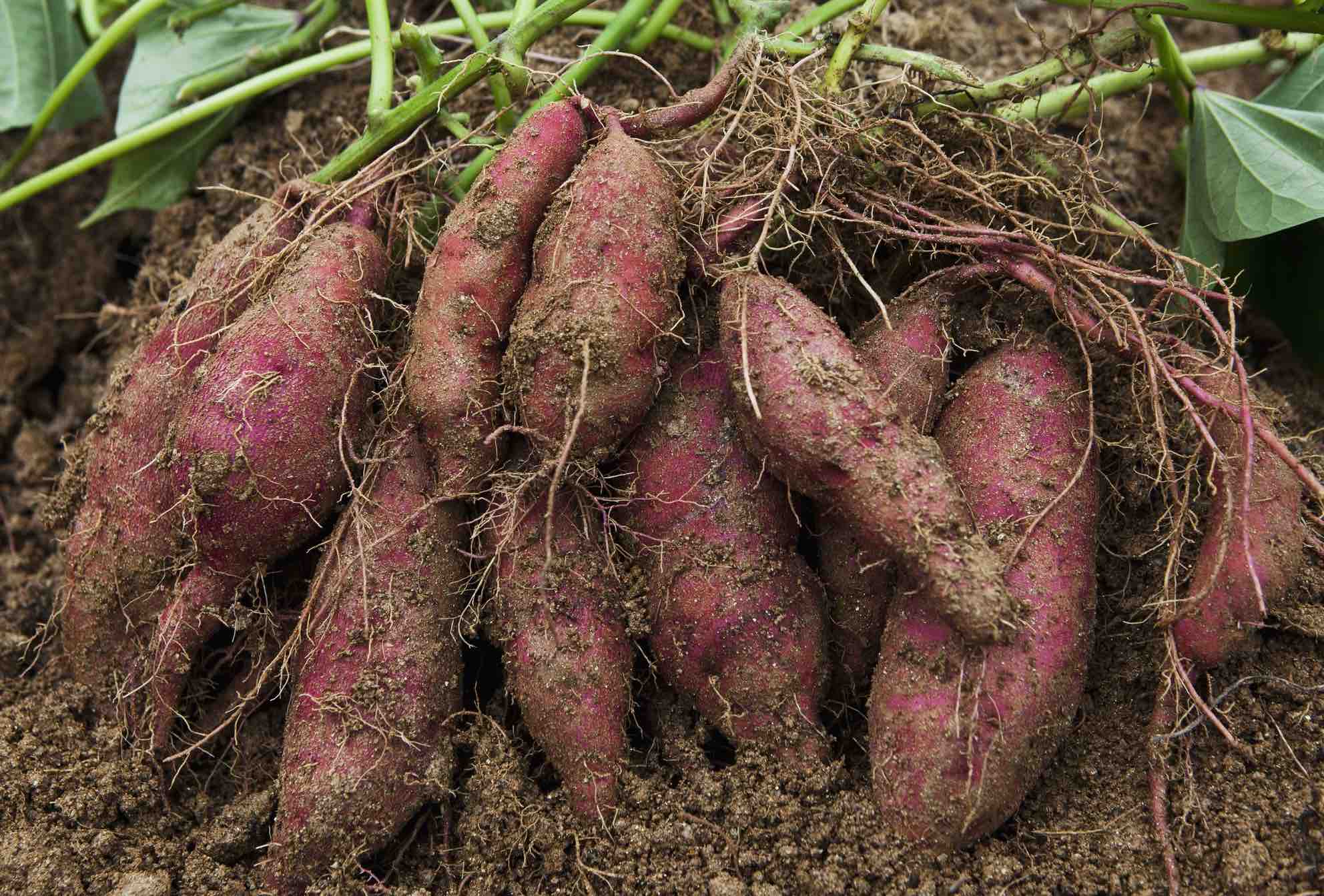 Sweet Potato
---
Sweet potato is a tropical vegetable that thrives in warmer climates. In recent years, the popularity of sweet potatoes has increased where they are now being used in mashes, fried items, desserts, baked savories, etc. Sweet potatoes are easily found in the market, although there is not much variety available. Planting sweet potatoes at home will give you a fresh harvest along with a variety of tastes and flavors.
There are two main types of sweet potato – the ones that have white flesh and the ones that have orange flesh (called 'orange sweet potato – OSP'). Though you can find other colors as well, purple or red, for example. Sweet potatoes are native to Latin America, where they have been a part of peoples diets for thousands of years. Although they are naturally occurring, the orange sweet potato has been further bred to improve their yield and nutritional content (in particular the beta carotene content – which the body makes into vitamin A – but also other macro- and micro-nutrients).
For a long time, the white sweet potato was the main type that was grown in most parts of the world, except in the United States where the orange one was more popular. From studying the orange varieties in the US, researchers realised that it could be a valuable food in terms of nutrition. So researchers started breeding the orange sweet potato to have an even greater vitamin A content and to be able to grow in other climatic conditions, for example in sub-saharan Africa where vitamin A deficiency is widespread. So it really is a globalised vegetable – It is indigenous to South East Asia – Vietnam, it was researched and bred in the United States and also in Peru at the International Potato Center, then it was adapted to climatic conditions in sub Saharan Africa and introduced there. The sweet potato has made an international journey!
Our range of packaging, supported by our packaging machinery expertise, aims to improve the speed of packing lines, maximise space both in-transit and in-store and reduce product damage. Made from corrugated or solid board, all our packaging can be branded, allowing you to differentiate your products in a competitive retail environment and attract consumer attention.
As a leading supplier of packaging to the fresh produce market, we understand the needs of growers, packers and retailers.
Sustainable packaging solutions that deliver protection, branding and speed for this item.
&nbspWe can guarantee excellent quality of all goods.
&nbspWe believe that wellness grows on trees.
&nbspAll the advantages at a glance.
&nbspShort delivery times.
&nbspWith our packaging, your fresh fruits or vegetables are always in season.
We can provide products delivery : EXW (Ex Works), FOB (Free On Board), CIP (Carriage and Insurance Paid), CNF (Cost and Freight), CIF (Cost, Insurance & Freight), D2D (Door to Door) … or other kinds of delivery described in Incoterm 2010.
Prices for Fresh Vegetables are rarely published and are dependent on quantities, packaging and delivery dates. Most significant quantities are sold on long term contracts where prices are normally not disclosed. For smaller parcels and short term requirements, trading takes place on the 'spot' market where prices are higher but more transparent.
For other specific request, please contact us via our trade system