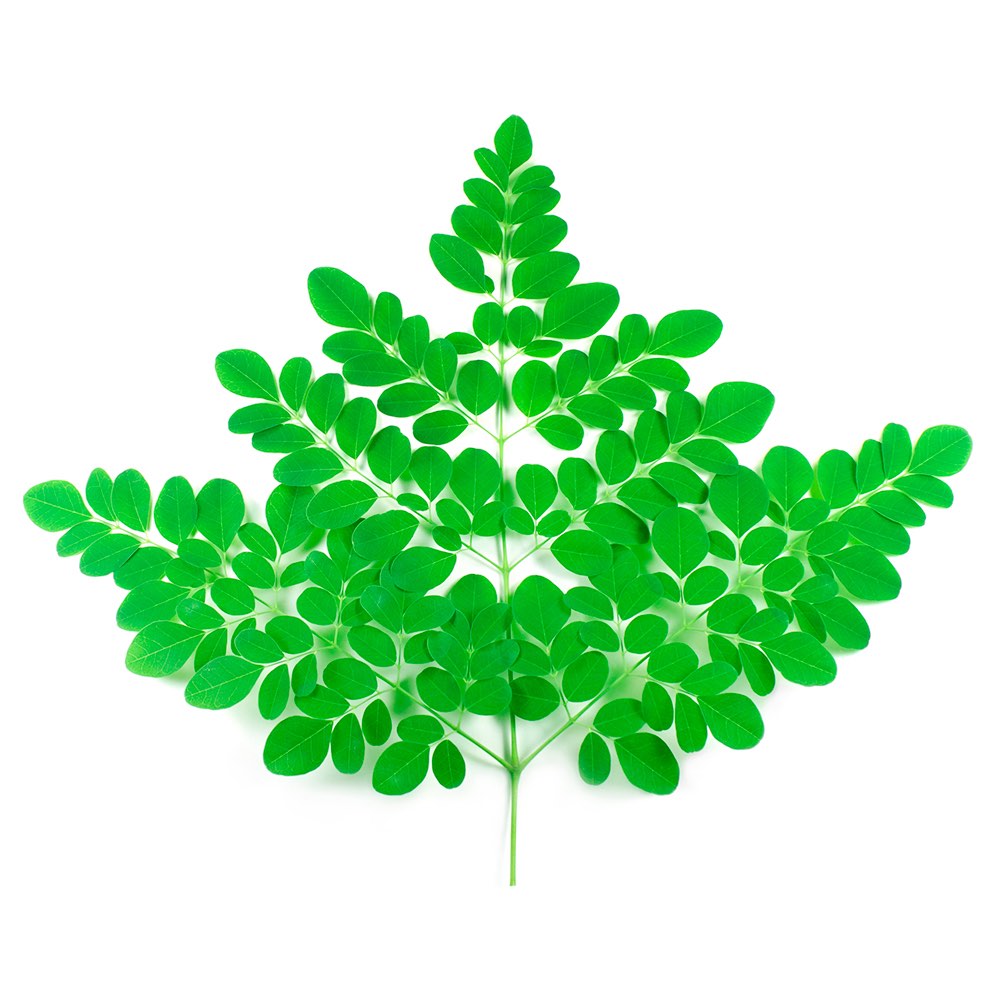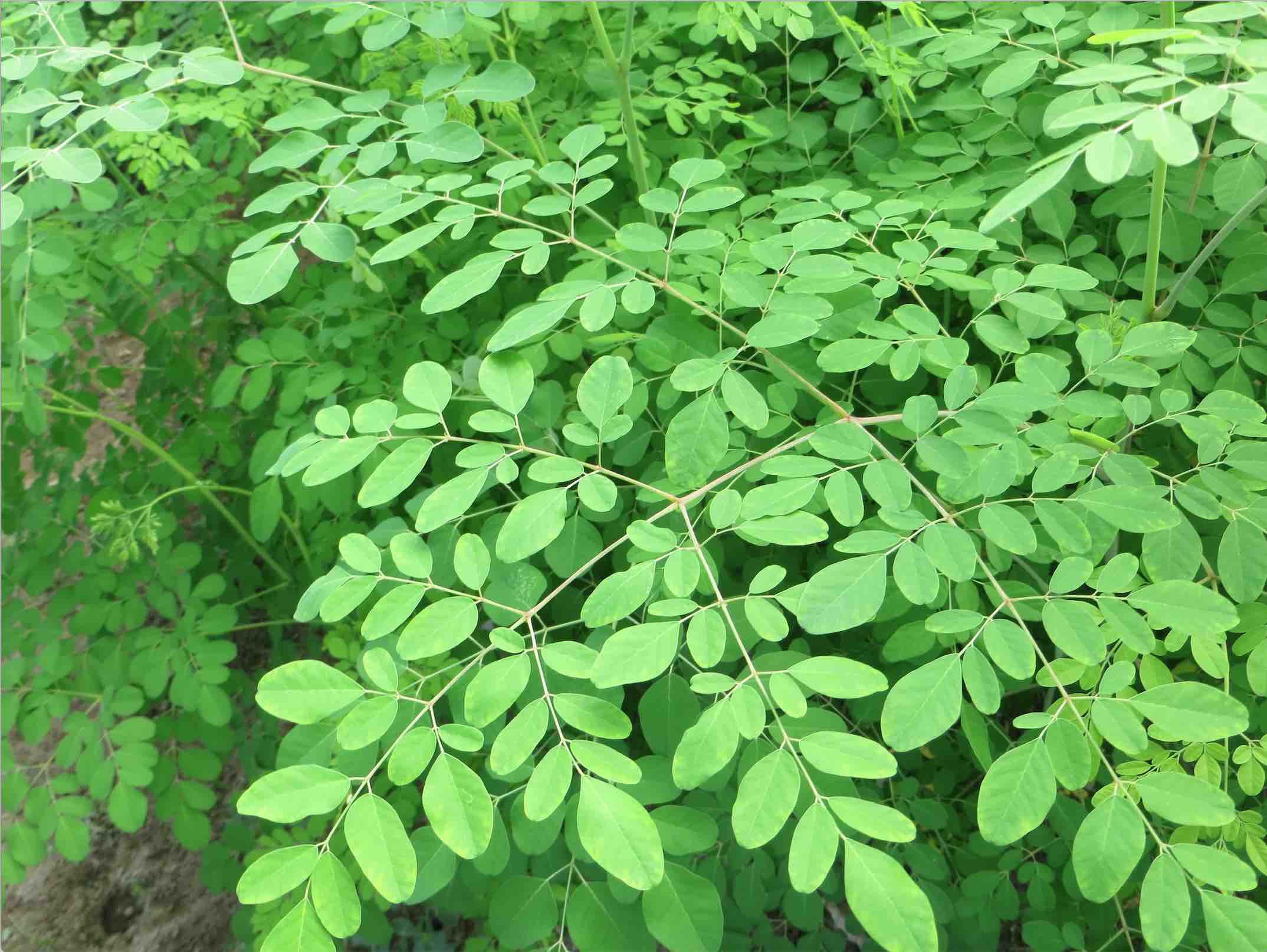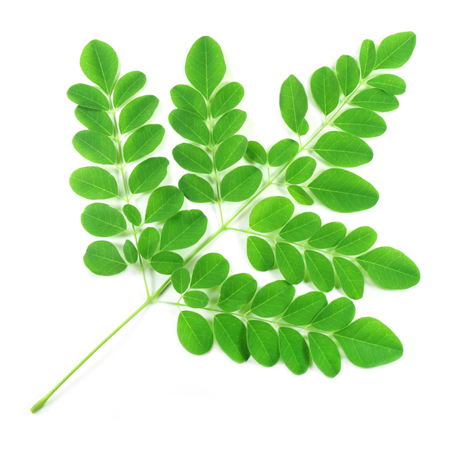 Moringa
---
Moringa is a fast-growing tree native to South Asia and now found throughout the tropics. Its leaves have been used as part of traditional medicine for centuries, and the Ayurvedic system of medicine associates it with the cure or prevention of about 300 diseases.
It is an incredible nutrient-dense superfood! It has seven times the amount of vitamin C in oranges, four times as much calcium and double the amount of protein in milk, four times the vitamin A in carrots, and three times the potassium in bananas! Moringa has one of the highest antioxidant contents of any food. With an ORAC value of 157,000³, it has 6x the antioxidants of goji berries and comparable levels to the antioxidant powerhouse matcha.
Moringa is also used to reduce swelling, increase sex drive (as an aphrodisiac), prevent pregnancy, boost the immune system, and increase breast milk production. Some people use it as a nutritional supplement or tonic.
One of the best moringa benefits is its super immune-boosting powers. Maintaining a healthy immune system is essential for helping our bodies stave off infections and illnesses.
Moringa oleifera leaves are almost 25% protein, which is unusually high for a plant. Moringa powder contains 9 essential amino acids making it a complete source of protein, supporting the growth and maintenance of muscle mass. The high protein content of moringa makes it particularly beneficial for vegans and vegetarians who can struggle to get a sufficient protein supply.
Moringa is sometimes applied directly to the skin as a germ-killer or drying agent (astringent). It is also used topically for treating pockets of infection (abscesses), athlete's foot, dandruff, gum disease (gingivitis), snakebites, warts, and wounds. Oil from moringa seeds is used in foods, perfume, and hair care products, and as a machine lubricant.
The health benefits of moringa include relief from stomach disorders, allergies and edema. The antioxidant power of moringa aids in liver protection, diabetes, eye protection, cardiovascular health, bone health, uroliathiasis, wound healing, healthy hair and skin. It is rich in antibacterial and antifungal properties that help to fight various infections, including herpes. It is rich in phytonutrients, which are effective for preventing various medical conditions such as cancer, neurodegenerative diseases, bronchial asthma, sickle cell disease, nephrotoxicity, high cholesterol, high blood pressure, anemia, and obesity, as well as helping to build a strong immune system.
Moringa is an important food source in some parts of the world. Because it can be grown cheaply and easily, and the leaves retain lots of vitamins and minerals when dried, moringa is used in Vietnam, India and Africa in feeding programs to fight malnutrition. The immature green pods (drumsticks) are prepared similarly to green beans, while the seeds are removed from more mature pods and cooked like peas or roasted like nuts. The leaves are cooked and used like spinach, and they are also dried and powdered for use as a condiment. The seed cake remaining after oil extraction is used as a fertilizer and also to purify well water and to remove salt from seawater.
Our range of packaging, supported by our packaging machinery expertise, aims to improve the speed of packing lines, maximise space both in-transit and in-store and reduce product damage. Made from corrugated or solid board, all our packaging can be branded, allowing you to differentiate your products in a competitive retail environment and attract consumer attention.
As a leading supplier of packaging to the fresh produce market, we understand the needs of growers, packers and retailers.
Sustainable packaging solutions that deliver protection, branding and speed for this item.
&nbspWe can guarantee excellent quality of all goods.
&nbspWe believe that wellness grows on trees.
&nbspAll the advantages at a glance.
&nbspShort delivery times.
&nbspWith our packaging, your fresh fruits or vegetables are always in season.
We can provide products delivery : EXW (Ex Works), FOB (Free On Board), CIP (Carriage and Insurance Paid), CNF (Cost and Freight), CIF (Cost, Insurance & Freight), D2D (Door to Door) … or other kinds of delivery described in Incoterm 2010.
Prices for Fresh Vegetables are rarely published and are dependent on quantities, packaging and delivery dates. Most significant quantities are sold on long term contracts where prices are normally not disclosed. For smaller parcels and short term requirements, trading takes place on the 'spot' market where prices are higher but more transparent.
For other specific request, please contact us via our trade system